Video Training
Rapid Prototyping with Fireworks CS5

This 5 hour course discusses and walks you through wireframing, storyboarding, interactive HTML prototyping, in a far more in-depth manner than my Essential Training title is able to do. It also introduces you to creating Flex skins, exporting MXML and exporting FXG for Flash Catalyst.
I think it will be a great resource for anyone wanting to learn more about using Fireworks for prototyping web and other interactive projects such as AIR applications.
Here's a quick run down of the main lesson topics:
* Rapid Prototyping Options in Fireworks
* Wireframing
* Storyboarding
* Multi-page Mockups
* Adding Interactivity
* Creating AIR Prototypes
* Creating Flex Mockups
* Going Further with HTML Prototyping
If you're interested in how to maximize Fireworks' potential as your mockup tool of choice, make sure to check out this course.
I have a total of 7 video training titles available on Lynda.com:
Rapid Prototyping with Fireworks CS5
Fireworks CS5 Essential Training
Fireworks CS5 New Features
Fireworks CS4 New Features
Fireworks CS4 Getting Started
Fireworks CS4 Essential Training
Rapid Prototyping with Fireworks CS4
Free Video Training at Layers Magazine
If you are using Adobe CS4, drop on by Layers Magazine CS4 Training Center where you will find a wide range of free online video training and demonstrations, created by me and many other industry professionals.
I also have some video training here on the site. Check out the Learning Resources page.
Writing - Print and Online
New EBook!
In November of 2011, Peachpit released my latest book in electronic form. Using the CSS3 Mobile Pack for Fireworks CS5 is a 3-chapter how-to book giving real-world examples of how to use this new - and free - Fireworks extension.
You can learn more about the book on my blog.
Be sure to check it out, and if you do pick it up, I'd love to hear what you think.
Community MX
I've written hundred's of articles and tutorials for CommunityMX over the years, many of which are free to read.
Adobe Fireworks CS5 Classroom in a Book
In my third book with Peachpit and Adobe Press, I introduce the novice to working with Fireworks CS5.
This revised edition builds on my first Classroom in a Book (CiaB), and covers new topics such as wireframing, working with Device Central, and exporting to Flash Catalyst.
Based on reader feedback, I've also included more information on the relationship between Fireworks and Photoshop. The CiaB's are not intended to dig deep into other software. The focus needs to remain on the main product, but I did find more information about integration between the two programs. There are even a few improvements to integration since CS4.
I have written two other books: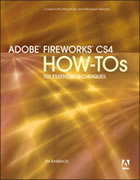 Adobe Fireworks CS4 How-To's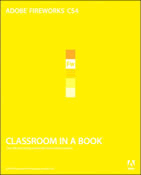 Adobe Fireworks CS4 Classroom in a Book
I have also tech-edited two books, Adobe CS3 and Adobe CS4 Web Workflows, written by Joe Lowery.
If you are interested in purchasing any of my books, click on the book in the widget.